iOS 5 – Adding An App To Notifications
In iOS5 a new configuration grouping was added to manage application Notifications. This means that you can now configure your applications to notify you how you like. They can appear as a banner at the top of the screen, they can appear an alert dialog as with prior versions of the OS, or you can opt to get no visible notification alert.
This control is really cool, but it has a downside. If you have upgraded to iOS 5 and had existing applications that performed notifications, you will no longer get notifications at all! The app will be added to the notification center in a group at the very botton 'Not In Notification Center'.
To bring it all home to goodman gear apps. This means that with Chakra Chime and Chakra Clock (and our other notification apps), you won't get your local notifications when the app is not running! Good news though, It's pretty easy to fix.
On your iphone, go into settings.
Find the item entitled 'Notifications'.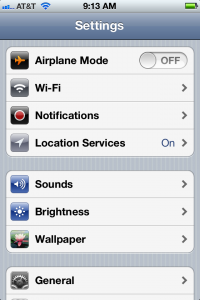 Once there scroll all the way to the bottom and you'll see a list of apps that are 'Not in Notification Center'.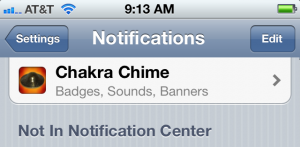 Click on the app of your choice and turn on the first switch 'Notification Center' to the 'On'. From there choose your options and you're good to go.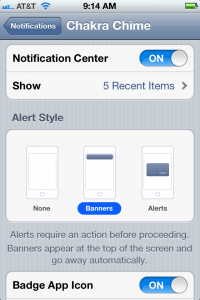 Now you can leave your applications and get notifications from the iphone just like the good old days. Or even better use notification Banners. Which is pretty cool!
For users that have a fresh installation of the app on their iOS 5 phone, this setting will already be generated with the default settings. But you can go in here and manage the settings if you wish to change the behavior.