Chakra Chime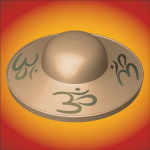 Simply the Most Beautiful meditation app in the AppStore!
Take some time for yourself. Luxuriate in the moment as you drift into the worlds beyond. Worry not for the future. You are here, now. Welcome to Chakra Chime
Easy to use, new improved user experience
Great for Meditation
Inspirational
Great For Yoga and Meditation
Fun for kids and adults!
Features:
Interactive Chime – 4 sound options available with Feature Pack
Inspirational Banner
Meditation Reminder Alarm – 4 reminder sounds available with standard version
Integrated volume control
Easy to Configure
Social links built in for easy access.
Share the app with Friends
Rate us in the App Store
Quickly visit ChakraCommunity.com while still in app
Even sign up for our mailing list
Feature Pack Now Available As An In App Purchase
Provides 4 Total Sound Options (classic Chime, Brass Bowl, Thunder and Om)
Auto Repeat Timer functionality
Ads Disappear
3 Quick Launch Timer selections 10,30 and 60 minutes
Wanting to learn more about meditation? Visit:
http://www.chakracommunity.com and join the discussions.
Ask questions
Learn about Meditation
Find out what others are meditating on
Language Support (7 languages):
English
Spanish
Italian
French
German
Japanese
Chinese
In App purchase available to:
Add new sounds (Brass Meditation Bowl, Thunder Cloud and OM)
Enable Repeating Notifications
Custom Message
Disable Advertisements
Available NOW in the itunes app store click for Free here